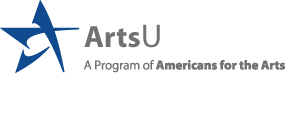 Welcome to the National Arts Marketing Project Conference!
Virtual - December 7 & 8

Arts and culture organizations have continued to shift and flex, adapting and adopting new ways of working while also sustaining existing platforms, outlets, and audiences. As we continue to react and respond to the changing landscape created by the pandemic, uncertainty is the only constant. Nothing is normal yet.

At Americans for the Arts, we have continued looking at more effective ways to support organizations, individuals, and communities. This year, and for the foreseeable future, we will continue to deliver the National Arts Marketing Project Conference online in its focused and streamlined format. This change will allow us to remain sustainable, relevant, and responsive. It will allow us to support more individuals through an expanded registration support program and will keep pricing affordable and accessible. This will also allow us to integrate more accessibility into the format and experience and continue to grow and build on the legacy of access that has been a hallmark of the conference.
Join us virtually as we explore three core themes:
You: What new skill(s) do I need to learn to be effective in my individual career?
Your World: What information does the field need to navigate the current environment?
Your Future: What is our collective vision for the future, and how do we reach it?
What You'll Get From This Conference:

• TWO days of programming content from field experts in social media, email marketing, audience development, fundraising, research, and much more.

With panel talks and hands-on workshops, learn the skills you need to be a better marketer. From the latest strategies to new technologies and innovations, this is the one-of-a-kind educational experience you've been looking for.

• NAMP values community, and you'll experience unique ways to connect with members of the national arts marketing community. Make long-lasting connections with some of the savviest marketers as you network, learn, and have some fun.

• Be inspired by an unrivaled roster of expert speakers, relevant content, and a variety of learning formats to imagine a brighter future. You'll leave reinvigorated by the new connections you'll make and inspired to utilize the latest marketing tools in your own arts marketing endeavors

• Access to session recordings for six months after the conference. Sessions will be available until June 30, 2022*.
Register
Register for the 2021 Virtual Conference
Register
Agenda
Learn more about why you should attend the 2021 conference.
More Info
How to Register
Interested in taking advantage of the member rate and saving $50 on your registration? Log in to your Americans for the Arts Account to check your membership status or become a member before you register! Conference membership rates are available to members at the Colleague and Basic Level or higher.
Select the product you would like to register for on this page by clicking on the green

REGISTER

tab.
Once directed to the package page, click the red

REGISTER

button found on the upper right-hand side of the page below the NAMPC Banner.
From there, click the orange

COMPLETE REGISTRATION NOW

button.
You will be directed to your cart. Depending on whether you have an existing Americans for the Arts account or need to create a new one, you will follow these steps:

If you have an existing account with Americans for the Arts: Click the

LOG IN

button, enter your username and password, and continue to check out.
If this is your first time registering for an Americans for the Arts event: Click the

CREATE AN ACCOUNT

button. You will then be directed to the Americans for the Arts website. Follow the prompts to create an account. Once you have created your account, you must return to your cart on ArtsU to complete your registration for the event.

Once you have logged in or created your account with Americans for the Arts, return to your cart on the registration page and complete the registration.
Please note: If you are an Americans for the Arts member and are not presented with the member rate, close all Americans for the Arts related internet browser windows, then launch a new browsing session.
How to Access Live & On-Demand Content
Visit the event agenda page to select your desired session for viewing.
Select your desired session from the agenda list and click the red

VIEW SESSION

button.
Once on the desired session page, locate the box on the right-hand side with the title of the session.
Click on the box.
Click the red

ENTER LIVE EVENT IN PROGRESS

or VIEW ARCHIVED RECORDING

button

- The session will automatically start playing in a new browser window.
Should you need any assistance accessing the recording, please refer to our visual instructions on our "ArtsU Tech Support Page", or send us an email at events@artsusa.org.
A Very Special Thank You!
A very special thank you to the Arts Marketers Network Steering Committee who helped shape and inform our programming for the arts marketing field throughout the year:
Mark Cardwell, Ohio Marketing Association
Ceci Dadisman, Independent Consultant
Julie Fossitt, City of Kingston
Jill Jacobs, John W. Bardo Fine & Performing Arts Center
Dr. Keith Lee, Nonprofit and Arts Management Consultant
Beth Prevor, HandsOn
Al Stilo, Aurora Theatre
Donna Walker-Kuhne, Walker Communications Group

| Access Date | Quiz Result | Score | Actions |
| --- | --- | --- | --- |
Become a Sponsor
If you or your organization are interested in partnering with Americans for the Arts to support the 2021 National Arts Marketing Project Conference, please do not hesitate to email us at development@artsusa.org or call us at 202.371.2830 for sponsorship opportunity details.