Aesthetic Perspectives in Grantmaking
Recorded On: 04/19/2022
About this Webinar
This session offers an overview of ways the Aesthetic Perspectives: Attributes of Excellence in Arts for Change framework can be activated in the cycle of grantmaking: from designing and refining programs, to framing criteria for aesthetic characteristics, to preparing and guiding grant panel processes toward fair and equitable review of artistic practice and aesthetic qualities in arts for change work. In the featured presentation, the Kentucky Foundation for Women shares how it has integrated the framework into its Bridging Divides grant program which supports two-year projects aiming for positive social outcomes for women and girls in Kentucky. In its commitment to deepen understanding of impact of its grant support, KFW used the framework to guide grantee evaluation and mid-term and final reporting and the foundation's own learning.
During this webinar, we will...
Share KFW's commitment to a participatory evaluation approach and co-learning with grantees;
Walk through KFW's process and grantee reporting form which incorporates questions from the Aesthetics framework and experiments with a 4-point scale;
Demonstrate how KFW has helped grantees gauge social or civic outcomes using Animating Democracy's Continuum of IMPACT as well as aesthetic qualities/attributes that support excellent artistic practice and outcomes;
Invite grantee reflections from Yes Arts on their experience of tapping the Aesthetics framework;
Share KFW's use of the Artists Thrive rubric to support KFW's Equity and Access goals
Looking for more on Aesthetic Perspectives? This webinar builds on the content in the webinar, Assessing Arts for Change: Understanding Aesthetic Perspectives. We recommend viewing this before attending. This webinar is part of the Activating the Aesthetic Perspectives Framework: A Tool for Funders, Evaluators & Artists collection.
This webinar is free as part of our support and service to the field, as is the Aesthetics Perspectives framework. Please consider becoming a member or donating to Americans for the Arts to support ongoing access to resources like these for everyone.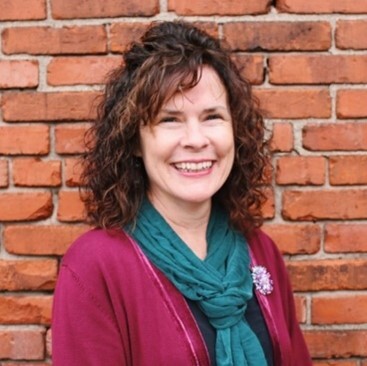 Sharon LaRue
Executive Director
Kentucky Foundation for Women
Sharon LaRue always knew she would be working to serve women and girls using art and creativity. As an Art Therapist, she developed a children's coloring book to be used for child abuse prevention. As the director of a program working to eliminate interpersonal violence at the University of Louisville, she facilitated Arts as Activism projects utilizing the art making process to fuel creativity, generate dialogue between diverse populations, and foster social change. Since 2014, Sharon has served as the Executive Director of the Kentucky Foundation for Women an organization that honors the feminist perspective of collective strength and recognizes art as a powerful catalyst for transformational change through grant making and artist residencies. She places an intentional focus on "learning from the field" by participating in local, regional, and national dialogues on feminist art for social change to strengthen access to resources and celebrate the diversity and complexity of all of our lives. Sharon is honored to have received awards from The Center for Non-Profit Art of Inclusion, The Kentucky Association of Sexual Assault Programs, the Rotary Service above Self Award, the Liberation Award to end Human Trafficking, and the UNA USA Human Rights Civil Rights Award. She serves as a Kentucky Colonel and on the Girls Scouts of Kentuckiana board of directors.
$i++ ?>
Amelia Berry
Grantwriter
Yes Arts
Amelia Berry served as Executive Director of Yes Arts from 2018 to June 2021 and was a driving force behind the creation of Just Say Yes, the county-wide youth substance use prevention program. She now serves as executive director of Just Say Yes at the Franklin County Health Department. In 2019, Amelia was selected as one of forty leaders nationally to be part of the Robert Wood Johnson Foundation's Culture of Health Leaders program. After beginning her career in social service work with immigrant and refugee women in the US, Amelia has held positions in non-profit management, legal services and consulting. Her clients have included the United Nations Secretariat Office for the Special Adviser on Gender Issues, the Consensus Building Institute, the China Law Society, and Yes Arts. Having previously lived in China, France, and Trinidad & Tobago, Amelia now makes her home in Frankfort, Kentucky, where she is a member of the Frankfort Independent Schools Board of Education. Amelia has played steel drum since adolescence, has played with the Trinidadian band Invaders during Trinidad Carnival's "Panorama" celebration, and occasionally has the opportunity to teach the instrument to Frankfort youth. Amelia also enjoys creative writing and making things with her hands.
$i++ ?>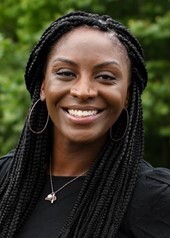 Jackie Gordon Duvall
Coordinator, Black Woman Artists of Frankfort
Yes Arts
Jackie Gordon Duvall works with Yes Arts to coordinate the Black Woman Artists of Frankfort network. In her full-time profession, she joined the Kentucky State Athletic Department staff as the Associate Director of Athletics and Senior Woman Administrator in January 2020. Duvall previously served as Director of Athletics, Equity, and Extended Learning for Frankfort Independent School District, where she returned to her Alma Mater to provide leadership over Middle and High School Sports and extracurricular activities. Jackie served 3 years in Shelby County Public Schools as a Family Resource Center Director and prior to that, 10 years working in the Cabinet for Health and Human Services for Kentucky. Duvall has achieved two master's degrees in Child and Family Studies and Organizational Leadership from Western Kentucky University. She earned her bachelor's at the University of Kentucky in Communications and Informational Studies, Family Studies. Duvall has a passion for making positive changes in her community; she is a Board Member and Youth and Community Program Coordinator for the Family Circle Inc., a non-profit organization established in 2011. She is also the founder and head coach of the Frankfort All-Star Track and Field Club, established in 2012. Jackie and her husband, Nicholas Duvall, reside in Frankfort, Kentucky, and they have three children.
$i++ ?>
We encourage registrants to become familiar with the Aesthetic Perspectives framework before attending these webinars so that we may give good time for the specific focus of each webinar. Find the free online Full version or the Short Take and a webinar on the framework below.
Register

Non-member - Free!
Member - Free!
Key:

Complete

Next

Failed

Available

Locked
Aesthetic Perspectives in Grantmaking