Continuum of IMPACT in Action! Teaching Artists Addressing Climate Change around the World
Register

Non-member - Free!
Member - Free!

About this Series
Free 2-part series!
Continuum of IMPACT in Action!
Teaching Artists Addressing Climate Change around the World
Through its groundbreaking ITAC IMPACT: Climate initiative, the International Teaching Artist Collaborative (ITAC) is supporting teaching artists around the world to engage students and their local communities around pressing issues of climate change. Teaching artists from Brazil to Alaska to the Philippines and beyond are designing and leading innovative projects in schools and communities to raise awareness, educate, change minds and behavior, and to activate participation around a local climate challenge. Having impact around this pressing issue is imperative and evaluation is an integral part of the work for both ITAC and the teaching artists. To help, ITAC has embedded Animating Democracy's Continuum of IMPACT as a central tool for sharpening desired outcomes and indicators of change and guiding artists' evaluation planning, implementation, reporting, and communication.
Part 1 – Big Picture: Evaluating Initiative- & Ground-Level Impact of ITAC IMPACT
September 14, 12:00 noon - 1:15 ET
ITAC's Aislinn Ryan provides a big picture overview of the impetus and design of the IMPACT: Climate initiative, its goals, the range of projects supported, and how the Continuum of IMPACT has facilitated a consistent and doable approach to evaluating outcomes of teaching artists' projects and the initiative on the whole. Teaching artist Katie Basile shares her project in Alaska for an on-the-ground look at her teaching artistry strategies and experience using the Continuum in project development and evaluation. Click here for detail and to register for this free ArtsU webinar.
Part 2 – Deep Dive: Teaching Artists Unpack Using the Continuum to Understand Impact
September 21, 12:00 noon - 1:30 ET
In this workshop, teaching artists Raz Salvarita (Philippines) and Francine Kliemann (Brazil) share their respective creative practices and projects and take a deep dive to share their evaluation efforts and learning using the Continuum of IMPACT. Having completed their pilot projects, they'll talk about how ITAC's extended support is enabling continuing efforts toward policy and systems change. Participants will learn about a new online curriculum developed to help teaching artists and those who support and partner with them to develop their own climate change projects and evaluations of impact. Click here for detail and to register for this free ArtsU webinar.
We recommend that registrants explore the Continuum of IMPACT prior to the webinars to gain familiarity, as only a brief introduction will be provided in Part 1.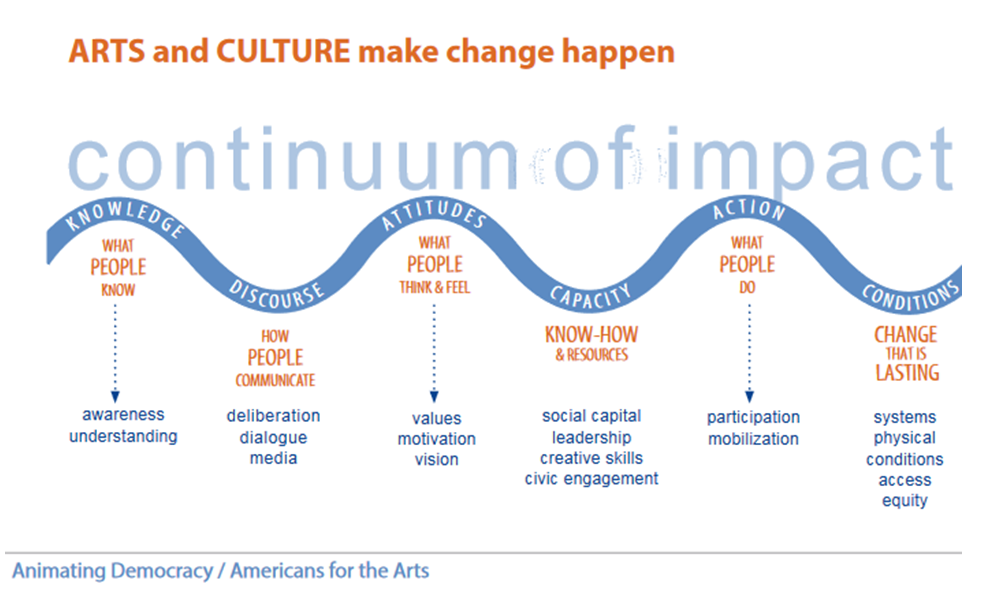 Advanced Search This List

Contains 2 Component(s)

Recorded On: 09/16/2022

The International Teaching Artist Collaborative (ITAC) is forging important pathways for teaching artists, schools, community leaders, and funders who share concerns about climate crises as they escalate locally and globally. In this session, learn from ITAC's Aislinn Ryan about its groundbreaking initiative, ITAC IMPACT: Climate, which provides a framework through which teaching artists can design and lead projects in their local communities to positively impact climate issues using teaching artistry. Gain an overview of the impetus for this initiative, its intents, program design, funding, and multi-year evolution. Most specifically, participants will gain insight into how Animating Democracy's Continuum of IMPACT is being applied as an integral tool for evaluating the range of teaching artist-led projects and the initiative on the whole and, of course, what has been learned about impacts. Teaching artist Katie Basile will discuss her in-progress project using photography and drones with students in Napakiak, AK, concerning permafrost melt, flooding, and rapid erosion and her experience using the Continuum.

About this Webinar

Part 1 Big Picture: Evaluating Initiative & Ground Level Impact of ITAC IMPACT September 14, 12:00 noon - 1:15 ET

The International Teaching Artist Collaborative (ITAC) is forging important pathways for teaching artists, schools, community leaders, and funders who share concerns about climate crises as they escalate locally and globally. In this session, learn from ITAC's Aislinn Ryan about its groundbreaking initiative, ITAC IMPACT: Climate, which provides a framework through which teaching artists can design and lead projects in their local communities to positively impact climate issues using teaching artistry. Gain an overview of the impetus for this initiative, its intents, program design, funding, and multi-year evolution. Most specifically, participants will gain insight into how Animating Democracy's Continuum of IMPACT is being applied as an integral tool for evaluating the range of teaching artist-led projects and the initiative on the whole and, of course, what has been learned about impacts. Teaching artist Katie Basile will discuss her in-progress project using photography and drones with students in Napakiak, AK, concerning permafrost melt, flooding, and rapid erosion and her experience using the Continuum.




Learning Objectives:

Learn ways to apply the Continuum of IMPACT to define and evaluate initiative level and project level outcomes and indicators for creative issue-based projects, as artists, partners, and funders.
Learn how this initiative is building teaching artists' capacity in evaluation through cohort orientation and exchange, connection with local climate experts, an online curriculum, and the ITAC Climate Collective.
Gain deeper understanding of the role teaching artists and their partners can play to engage students and community members regarding local climate change concerns.




Students in Napakiak, AK using drones to capture shoreline erosion as part of Katie Basile's teaching artist residency project with ITAC's IMPACT: Climate initiative. Photo: Courtesy Katie Basile

Aislinn Ryan Project Manager, ITAC Impact: Climate International Teaching Artist

Aislinn Ryan is Project Manager for ITAC's pioneering initiative, ITAC IMPACT: Climate. Working alongside a climate expert, a curriculum designer, and partner networks, Aislinn coordinates the activities of the Climate Collective: an international cohort of teaching artists commissioned to design and deliver community-engagement projects that combat climate change. Prior to joining ITAC, Aislinn worked in the Tours and Projects department at Askonas Holt, managing international tours for major orchestras and dance companies. She has worked for English Touring Opera, where she managed relationships with trusts and foundations, brokered creative partnerships, and expanded the membership scheme. Aislinn also previously served on the Board of OYAP (Oxfordshire Youth Arts Partnership). Aislinn is a former professional dancer; she toured the world as the principal dancer of Riverdance and is a qualified Irish dance teacher. She has a BA (Hons) in English Literature and History from Victoria University in her hometown of Wellington, New Zealand.

Website: https://www.itac-collaborative.com/

$i++ ?>

Katie Basile teaching artist

Katie Basile is a photojournalist, documentary photographer, and filmmaker with a focus on her home, the Yukon-Kuskokwim Delta region of Alaska. Katie began her career as a teaching artist and has more than a decade of experience collaborating on multimedia stories with rural Alaskan youth. From Yup'ik kayak building to the high teacher turnover rate, youth-led storytelling continues to expand Katie's understanding of traditional and contemporary rural Alaska. Katie is a Rasmuson Foundation Individual Artist Awardee and the co-recipient of a National Edward R. Murrow Award for excellence in video through her work at KYUK Public Media. She recently directed the award-winning short film "To Keep as One" in collaboration with the Newtok Village Council which premiered at the 2020 Big Sky Film Festival. Katie lives in Bethel, Alaska with her husband and two young sons.

Website: http://www.katiebasile.com/

$i++ ?>

Contains 2 Component(s)

Recorded On: 09/23/2022

In this workshop, teaching artists Raz Salvarita (Philippines) and Francine Kliemann (Brazil) share their respective creative practices and projects as well as their evaluation efforts and learning using the Continuum of IMPACT. Raz's project, Unmasking Climate Injustices: Voices from the Past, Present, and Emerging Generations, aims to magnify citizens' and students' roles individually and collectively as activators, facilitators, and educators toward shifting community consciousness about climate change. Francine's project, The School of the (Im)Possible, engaged eight- to 10-year-olds to give voice to the meaningful perspectives and expectations that youth bring regarding the future and issues of climate change. This workshop delves into the nitty gritty of how the Continuum was adopted and applied in each project to help specify desired outcomes and indicators and formulate a logic model and evaluation plan. Raz and Francine will share what data they collected, how they approached data analysis, and what outcomes they were able to gauge. As teaching artists who are receiving continued support through the ITAC IMPACT: Climate initiative, they will talk about what that extended support is enabling toward policy and systems change. ITAC's Aislinn Ryan provides a preview of a 20-hour online curriculum that ITAC will offer for teaching artists and their allies to develop their own climate change projects, including a look at the evaluation curriculum.




About this Webinar




Part 2 Deep Dive: Teaching Artists Unpack Using the Continuum to Understand Impact September 21, 12:00 noon - 1:15 ET

In this workshop, teaching artists Raz Salvarita (Philippines) and Francine Kliemann (Brazil) share their respective creative practices and projects as well as their evaluation efforts and learning using the Continuum of IMPACT. Raz's project, Unmasking Climate Injustices: Voices from the Past, Present, and Emerging Generations, aims to magnify citizens' and students' roles individually and collectively as activators, facilitators, and educators toward shifting community consciousness about climate change. Francine's project, The School of the (Im)Possible, engaged eight- to 10-year-olds to give voice to the meaningful perspectives and expectations that youth bring regarding the future and issues of climate change. This workshop delves into the nitty gritty of how the Continuum was adopted and applied in each project to help specify desired outcomes and indicators and formulate a logic model and evaluation plan. Raz and Francine will share what data they collected, how they approached data analysis, and what outcomes they were able to gauge. As teaching artists who are receiving continued support through the ITAC IMPACT: Climate initiative, they will talk about what that extended support is enabling toward policy and systems change. ITAC's Aislinn Ryan provides a preview of a 20-hour online curriculum that ITAC will offer for teaching artists and their allies to develop their own climate change projects, including a look at the evaluation curriculum.




Learning Objectives:

Gain practical evaluation know-how through these artists' adoption and practical application of the Continuum of IMPACT.
Learn how the Continuum can help understand multiple layers of impact from individual to the collective.
Consider program design measures such as duration and multi-year funding to ensure sustainability of efforts that can further structural and systemic changes.
Consider how sharpened attention to civic or social outcomes may influence aesthetic choices and/or creative practice.




Students and community members engage with public artwork installation from Raz Salvarita's Unmasking Climate Injustices project. Photo: Courtesy of Raz Salvarita