Exploring Inclusive Creative Economy Definitions & Concepts Part 2
Recorded On: 04/20/2021
About this Webinar
This session is the second of a two-part webinar to explore foundational concepts and definitions related to what an 'inclusive creative economy' means when it comes to talking about economy systems. This program will primarily focus on the term "Solidarity Economy," and its linkages to other movements towards a more just and inclusive economy, such as "New Economy," "Just Transition," "Restorative Economics," and "Regenerative Economy." We'll discuss why these terms and systems are relevant to local arts leaders, offer examples of how they come to life in the work of developing inclusive creative economies, and provide space for discussion and questions.

In this session, attendees will:

Explore concepts and terms related to an inclusive creative economy and what those terms mean in different contexts.

Hear some examples of projects that have brought the terms to life.

Discuss ideas for incorporating or building on the terms in their own communities, and what barriers might exist.
To read more about the full scope of this initiative read a recent blog Introducing Americans for the Arts' Inclusive Creative Economy Plan
---
ABOUT THIS TWO-PART WEBINAR
Understanding and creating shared language is critical if we are to do our work thoughtfully and with intention. Talking about the "creative economy" can mean many things to people. As Americans for the Arts launches a multi-year effort to support the continued development of local creative economies, we begin with the basics of exploring the language we use and how it can translate across communities. These two-part webinars will delve into foundational concepts and definitions related to what an 'inclusive creative economy' means when it comes to talking about individuals, institutions, and economic systems. These programs will focus on a few terms, offer examples of how they can be applied, how other organizations and practitioners may use different language in different contexts, and provide space for discussion and questions. In this two-part webinar, practitioners will gain knowledge of equity-based terms and concepts for the purpose of working as informed community partners in the development of their local inclusive creative economy.

Natalia Linares
Communications Organizer
New Economy Coalition
Nati grew up on the island of Shaolin, also known as Staten Island, New York City — close to both the world's largest garbage dump and the oldest continuously inhabited free Black community in the United States. She's the child of Cuban and Colombian immigrants who landed in Queens in the late 1960s, benefited from low-cost public college and raised her with a love of learning, exploration and music. As a mami, she strives to raise a son who can resist the patriarchy to become a full human being and embrace life's contradictions. She comes to the solidarity economy movement after a decade witnessing inequities in the music and media industry while working with diasporadical and misrepresented artists. Nati tells the stories of people resisting Capitalism and building new systems, especially those creating a culture of revolution.
$i++ ?>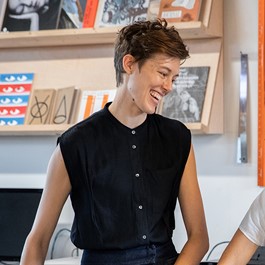 Caroline Woolard
Artist
Caroline Woolard is an artist who, in making her art, becomes an economic critic, social justice facilitator, media maker, and sculptor. Since the financial crisis of 2007-8, Woolard has catalyzed barter communities, minted local currencies, founded an arts-policy think tank, and created sculptural interventions in office spaces. Woolard has inspired a generation of artists who wish to create self-organized, collaborative, online platforms alongside sculptural objects and installations. Her work has been commissioned by and exhibited in major national and international museums including MoMA, the Whitney Museum, and Creative Time. Woolard's work has been featured twice on New York Close Up (2014, 2016), a digital film series produced by Art21 and broadcast on PBS.
She was the 2018–20 inaugural Walentas Fellow at Moore College of Art and Design and the inaugural 2019–20 Artist in Residence for INDEX at the Rose Museum, and a 2020-2021 Fellow at the Center for Cultural Innovation. Caroline Woolard is Assistant Professor at the University of Hartford, teaching in BFA and in the Nomad/9 Interdisciplinary MFA program. Woolard is the co-author of three books: Making and Being (Pioneer Works, 2019), a book for educators about interdisciplinary collaboration, co-authored with Susan Jahoda; Art, Engagement, Economy (onomatopee, 2020) a book about managing socially-engaged and public art projects; and TRADE SCHOOL: 2009-2019, a book about peer learning that Woolard catalyzed in thirty cities internationally over a decade.
$i++ ?>
Register

Non-member - $49.99
Member - Free!
Key:

Complete

Next

Failed

Available

Locked
Exploring Inclusive Creative Economy Definitions & Concepts Part 2