DIAL.studio | Antigone in Ferguson: Building a Chorus that Can't Preach to Itself (By Design)
Recorded On: 07/17/2020

About this Webinar
July 17th, 2020 at 3:00 PM EST
Antigone in Ferguson was conceived in the wake of Michael Brown's death in 2014, through a collaboration between Theater of War Productions and community members from Ferguson, MO. Translated and directed by Theater of War Productions Artistic Director Bryan Doerries and composed by Phil Woodmore, the project fuses a dramatic reading by leading actors of excerpts from Sophocles' Greek tragedy with live choral music performed by a choir of activists, police officers, youth, and concerned citizens from Ferguson and New York City. Through their work with Antigone in Ferguson, Bryan and Phil will discuss how this performance became a catalyst for panel and audience-driven discussions about racialized violence, structural oppression, misogyny, gender violence, and social justice.
Participants will walk away with:
An understanding of the process behind creating and building the play, Antigone in Ferguson
Insight on how artists and communities can work together to develop art that emphasizes the need for critical discussion, organizing, and healing
Tools on how one can create social justice centered artwork within their own communities
This session is a part of the DIAL.studio | Professional Development Series and is free for all who register. Can't make an event live? Register anyway for access to the recording.
Please note that while this session is free and open to all, it was curated with the intention of supporting college students, pre-career, and emerging leaders traditionally underrepresented within the arts field.
---
This program is made possible by support from ConEdison, the Mertz Gilmore Foundation, the Laurie M. Tisch Illumination Fund, the Kutya Major Foundation, and The Milton & Sally Avery Arts Foundation.


Bryan Doerries
Artistic Director, Theater of War Productions
Bryan Doerries is a New York-based writer, director, and translator, who currently serves as Artistic Director of Theater of War Productions. A self-described evangelist for ancient stories and their relevance to our lives today, Doerries uses age-old approaches to help individuals and communities heal from trauma and loss. During his tenure at Theater of War Productions, the company has presented diverse projects across the United States and internationally, using dramatic readings of seminal plays and community conversations to confront topics such as combat-related psychological injury, end-of-life care, racialized violence, prison reform, gun violence, domestic violence, addiction, sexual assault, and the refugee crisis. Doerries' books include The Theater of War: What Ancient Greek Tragedies Can Teach Us Today (Knopf), The Odyssey of Sergeant Jack Brennan (Pantheon), and a collection of his translations of ancient Greek Tragedies entitled All That You've Seen Here is God (Vintage). He has taught courses at Princeton University, Bard College, the University of Connecticut, and the Bard Prison Initiative. His academic degrees include a BA in Classics from Kenyon College and an MFA in Theater Directing from the University of California, Irvine. Among his awards, he has received an honorary Doctorate of Humane Letters from Kenyon College, and in March 2017, he was named Public Artist in Residence (PAIR) for the City of New York, a joint appointment with the New York City Department of Veterans' Services and Department of Cultural Affairs. For more information about his work, please visit: www.theaterofwar.com.
Facebook: Theater of War
Twitter: @theaterofwar
Instagram: @theaterofwar
$i++ ?>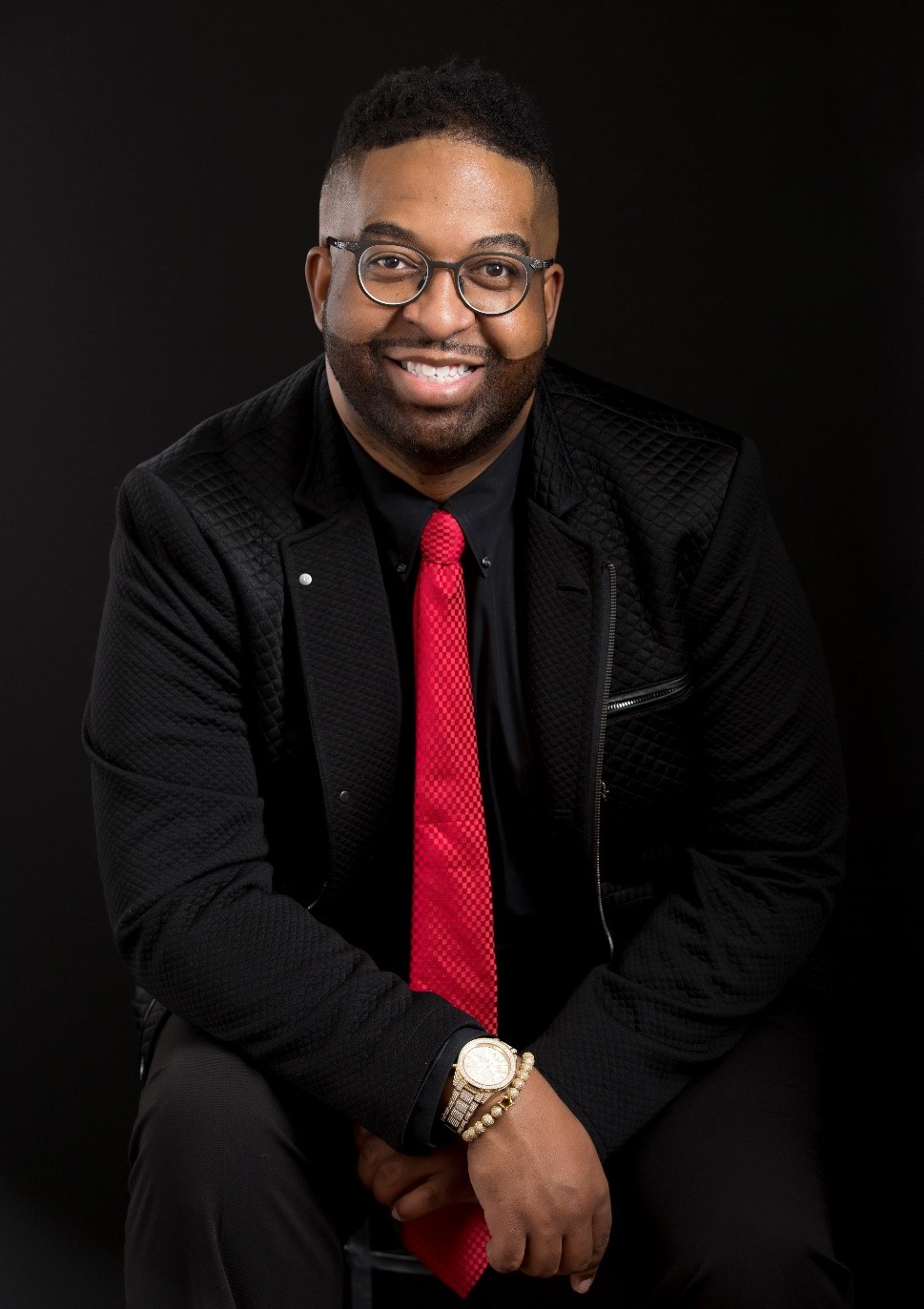 Phil Woodmore
Composer, Vocal Coach, and Music Educator
Saint Louis native, Dr. Philip A. Woodmore has been an active member of the St. Louis music community for many years. Phil received his bachelors from Saint Louis University in Business Marketing and Music Vocal Performance and then went on to receive his masters from Webster University in Music Education. He recently graduating with his PhD in Music Education from the University of Missouri-Columbia. His research interest are the changing voice and voice pedagogy and his dissertation is on the transformative power of music in the choral setting using the auditioned choir in the Off-Broadway run of Antigone in Ferguson.
Phil taught choir one year at Ferguson and Berkley Middle Schools in the Ferguson-Florissant School District and then went on to become the choir director at Crestview Middle School in the Rockwood School District where he taught for 12 years. Along with his work in Rockwood, Phil was the Coordinator of the Voice Program at the Center of Creative Arts (COCA) and the artist director of the Allegro Music Company from 2008-2017, has been the director of the Saint Louis Metropolitan Police Department Choir since 2009, was the director of the Northern Arizona University Gospel Choir from 2014-2017, Artist in Residency for the State of Arizona for a two year term 2016-2018, minister of music at Trinity Community Church from 1992-2018, and vocal coach to many in the St. Louis and New York.
In August 2016 Phil was asked to compose an original score of a version of Antigone translated by Bryan Doerries called Antigone in Ferguson which has been traveling the country for the past four years and premiered internationally in Athens, Greece in June 2016. Since the success of Antigone in Ferguson, Phil has written an original score for Dr. Martin Luther King Jr.'s last sermon The Drum Major Instinct and also for a speech by Frederick Douglass. In 2018 The Drum Major Instinct premiered in Athens, Greece and was performed on several college campuses during the 2018-2019 school year. In 2018 Antigone in Ferguson ran in an Off-Broadway theater in New York for a five-week workshop and in 2019 it ran for ten-weeks at the St. Ann and Holy Trinity Episcopal Church in Brooklyn, New York. Philip is excited for several collaborations in 2021 including a production of Pirates of Penzance in which Phil's company P. Woodmore Music, LLC will be a producing partner and will provide all the music for the show. Phil will be joining the Muny family for the 2020 summer season and he is looking forward to a great partnership as the Music Director for Muny Kids. For more information on Dr. Philip A. Woodmore please visit www.philipawoodmore.com
Twitter: @phil_woodmore
$i++ ?>
Antigone in Ferguson is a groundbreaking project, developed by Theater of War Productions, which fuses dramatic readings by acclaimed actors of Sophocles' Antigone with live choral music performed by a diverse choir, including police officers, activists, youth, teachers, and concerned citizens from St. Louis, Missouri and New York City, culminating in powerful, healing discussions about race and social justice. Antigone in Ferguson was conceived in the wake of Michael Brown's death in 2014, through a collaboration between Theater of War Productions and community members from Ferguson, MO, and premiered at Normandy High School, Michael Brown's alma mater, in September of 2016.
Click here to view the performance

"I'm Covered" by the Antigone in Ferguson Choir
Join Theater of War on August 9th at 8:30 PM EDT for Antigone in Ferguson, live and online. Tickets are free. Register here.
Register

Non-member - Free!
Member - Free!
Key:

Complete

Next

Failed

Available

Locked
DIAL.studio | Antigone in Ferguson: Building a Chorus that Can't Preach to Itself (By Design)