Part 2: Connecting Community Impact to Arts and Chambers Partnerships
About Part 2
In Part 2 of the "How to Partner with Your Local Chamber of Commerce" collection, participants will take the foundational knowledge gained and basic activations from the first series and expand beyond their role as arts leaders into the role of community and economic development partner. Participants will learn about how to identify their own work and assets within their full community and creative ecosystem and begin to leverage new connections and relationships inside the chamber to address social impact, equity, and community issues. Participants will gain fluency in the Arts & Economic Prosperity studies, as well as learn how to use other creative economy research to make their case to their chamber and economic development counterparts. Participants are encouraged to use the toolkit as complimentary learning and participate in a live peer discussion once completing the 3-part on-demand webinar series.
View the three sessions by pressing the "view web content-on-demand" button on the left side of the page.
Session 1 - Local Arts Agencies & Ecosystem Thinking
In session 1 of Part 2, local arts agency leaders will learn how to expand their view beyond only being an arts leader, to gaining the agility to build on the local business ecosystem through their role as an agency leader representing a body of organizations. Participants will hear examples from Mark Nerenhausen, President & CEO of Hennepin Theater Trust, as to how Hennepin has become a trusted and vital community and economic development partner, beyond being a leading arts organization in Minneapolis.
Learning Objectives
Participants will gain awareness in shifting their thinking from their 'lane' of only arts and culture to their role within their full community ecosystem and economy; and where a partnership with their chamber can live.
Participants will learn about broad conditions that need to exist for a healthy business environment, and how their work can contribute to that landscape.
Participants will learn how a local arts agency can position itself as a good, "non-threatening," challenging and complementary partner that will augment the Chamber's goals.
Session 2 - The Economic Case for the Arts
In session 2 of Part 2, local arts agency leaders will gain deeper knowledge in making the economic case for the arts using research, while understanding how to identify and communicate their own organizational assets as anecdotes to business and chamber challenges. While hearing from Americans for the Arts Vice President of Research, Randy Cohen, and Robert Quick, President & CEO of Commerce Lexington, local arts agency leaders will understand the importance of talent attraction and retention to chambers and their members, and how they can design partnerships alongside chamber leaders to help create a healthy business environment.
Learning Objectives
Participants will receive an overview of the Arts & Economic Impact studies, and how they can use it and other research to help make the case for arts and culture in a chamber environment.
Participants will explore how to identify business needs and challenges among chamber members and connect their work and assets to those challenges.
Participants will understand the importance of talent attraction and retention to chambers of commerce, what it means to create a healthy business environment, and how their work as local arts leaders can intersect with that focus.
Session 3 - Arts, Chambers, and Centering Equity
In session 3 of Part 2, local arts agency leaders will gain insight as to how chambers are thinking about centering and integrating equity throughout their programs and business membership. In addition to hearing examples of programs, evaluation, and arts activations, participants will start to connect how local arts agencies are vital partners to help create a sense of place and belonging alongside their chambers, especially in terms of talent attraction and retention. This session will be presented by the Greater Des Moines Partnership.
Learning Objectives
Participants will explore how chambers are integrating equity initiatives throughout their business members, and how local arts agencies can draw parallels to their work with arts and culture organizations.
Participants will learn how to chambers are thinking about leveraging the arts to create equitable communities that attract and retain talent.
Participants will hear examples of successful partnerships between chambers, economic development agencies and local art groups that addressed equity initiatives.
This is Part 2 of the "How to Partner with Your Local Chamber of Commerce" collection. To register for Part 2 only, click the REGISTER button on this page. To register for the entire collection (including Parts 1, 2, and 3) please visit the collection page and press REGISTER. Questions? Please email artsu@artsusa.org.
---
ARTSU SUPPORT PROGRAM
We are pleased to be able to offer registration support for those with limited resources who wish to register for this ArtsU Intensive. Sign up for the ArtsU Support program here.
Mark Nerenhausen
President/CEO
Hennepin Theatre Trust
Mark Nerenhausen is the President/CEO of Hennepin Theatre Trust. Prior to the Trust, he served as founding director and professor of practice of the Janklow Arts Leadership Program at Syracuse University. Before that, he served as president and CEO of the $354 million AT&T Performing Arts Center in Dallas, where he secured AT&T as a naming sponsor, raised more than $4 million in the first year of operations, created a governing board and instituted an integrated business information platform. He also brokered strategic partnerships with regional and national organizations, several of which were devoted to minority arts, and initiated the Jazz Roots series.
From 1998 to 2009, Nerenhausen led the Performing Arts Center Authority in Fort Lauderdale, Fla., with responsibility for managing the multi-venue Broward Center for the Performing Arts and five other performing arts venues, fashioning it into a catalyst for tourism, economic development, education, industry innovations and cross-cultural exchange. Under Nerenhausen's tenure, the Broward Center's main concert hall consistently ranked in the world's top 10 venues for ticket sales, according to Pollstar and Venues Today magazines.
Nerenhausen has held other major positions at the Maui Arts and Cultural Center in Kahului, Hawaii (1993-98); the Oshkosh Grand Opera House in Wisconsin (1990-93); the Bijou Theater Center in Knoxville, Tenn. (1987-89); the Milwaukee Performing Arts Center in Wisconsin (1985-87); and the Tennessee Performing Arts Center in Nashville (1983-85).
$i++ ?>
Randy Cohen
Vice President of Research
Americans for the Arts
Randy Cohen is Vice President of Research at Americans for the Arts—the national advocacy organization for the arts—where he has been empowering arts advocates since 1991. Randy stands out as a noted expert in the field of arts funding, research, and using the arts to address community development issues. He publishes Americans Speak Out About the Arts, the nation's largest public opinion study about the arts, and produces the two premier economic studies of the arts—Arts & Economic Prosperity, the national economic impact study of nonprofit arts organizations and their audiences; and Creative Industries, a mapping study of the nation's 675,000 arts businesses and their employees. His 10 Reasons to Support the Arts blog received the Gold Award from the Association of Media & Publishing—their top honor for best blog post of the year. Randy led the development of The National Arts Index, the annual measure of the health and vitality of arts in the U.S. and the National Arts Policy Roundtable, an annual convening of leaders who focus on the advancement of American culture—launched in partnership with Robert Redford and the Sundance Institute. In the late 1990's, Randy collaborated with the President's Committee on the Arts and the Humanities to create Coming Up Taller, the White House report on arts programs for youth-at-risk; and the U.S. Department of Justice to produce the YouthARTS Project, the first national study to statistically document the impact of arts programs on at-risk youth. A sought-after speaker, Randy has given speeches in all 50 states, and regularly appears in the news media—including the Wall Street Journal, The New York Times, and on C-SPAN, CNN, CNBC, and NPR.

Randy has been a policy specialist for the National Endowment for the Arts, founded the San Diego Theatre for Young Audiences, and worked in medical research for Stanford University and Scripps Clinic and Research Foundation. His board work includes the League of Historic American Theaters. Randy is a past Chairman of the Takoma Park Arts & Humanities Commission, during which time the Commission completed a cultural plan, established the city's Poet Laureate and public art programs, and led the development of a million-dollar conversion of the city council chambers into a performing arts space.
Twitter: @artsinfoguy
$i++ ?>
Bob Quick
President & CEO
Commerce Lexington
Bob is the President and Chief Executive Officer for Commerce Lexington Inc., a 1,800 member investor-driven chamber of commerce and economic development organization. In 2020, Commerce Lexington was awarded a Top 20 Mac Conway Economic Development Agency by Site Selection Magazine, and in 2016 was named Chamber of the Year by the Association of Chamber of Commerce Executives. Under Bob's leadership in 2014 and 2015, Commerce Lexington Inc. was recognized among the Top 3 chambers of commerce by the Association of Chamber of Commerce Executives (ACCE). During his 32 years in the chamber profession, he has also served as the President and CEO of the Metropolitan Evansville (IN) Chamber of Commerce and as the Executive Vice President of the Iowa City Area Chamber of Commerce.
Bob has served as the assistant director of the World Agricultural Expo (1988), administrative aide, Public Liaison Office of the U.S. Secretary of Agriculture (1982), and served as the National FFA Secretary (1980-81).
Bob is extremely involved in the Central Kentucky region in matters of public policy, community, economic, and leadership development. He is involved in the Bluegrass Alliance, an eight-county consortium of regional economic development entities and was a founding partner in the Central Kentucky "Regional Public Policy Group." Both entities have proven to be 'region builders' by unifying cities, towns, and counties across Central Kentucky.
Bob is a 1985 graduate of the University of Illinois at Champaign-Urbana. He is also a cancer survivor, having been diagnosed with Stage 4 lymphoma in early 2017 and now declared cancer free. In his spare time, he enjoys participating in outside sports and reading political memoirs. He is married to Julie (Lindemeier) Quick and has three adult children: Kierstin, Andrew, and Morgan. They reside in Lexington and attend St. John's Lutheran Church.
$i++ ?>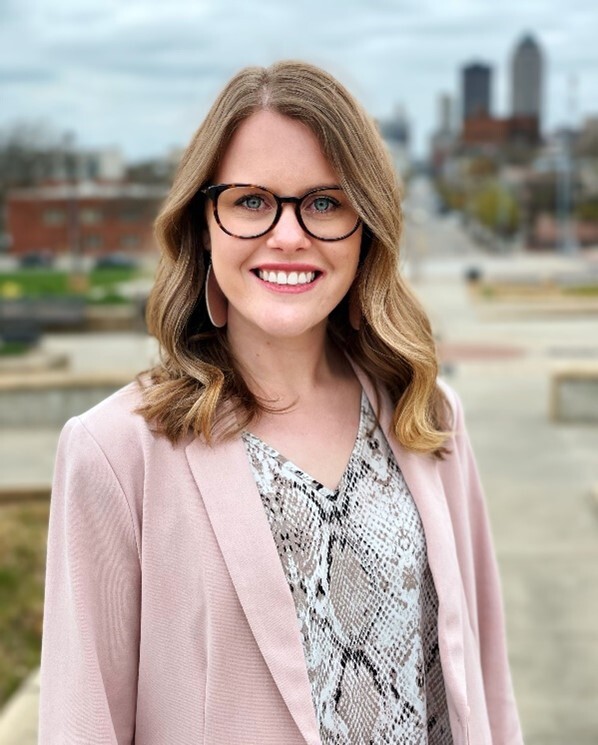 Josie Burgett
Downtown Activation Manager
Greater Des Moines Partnership
Josie Burgett is the Downtown Activation Manager at the Greater Des Moines Partnership. In this role, Burgett works to ensure that Downtown DSM is a vibrant destination for employees, residents and visitors, alike. This includes implementing placemaking strategies that create a welcoming and inclusive environment for all, lining up unique attractions and producing pop-up activations throughout the year that encourage visitation and support the economic and cultural vitality of Downtown DSM. Prior to working at The Partnership, Burgett was the Customer Success Lead at an ag-tech company based in Greater Des Moines (DSM). Burgett is a graduate of Iowa State University, where she earned a degree in Agricultural Business and International Agriculture.

$i++ ?>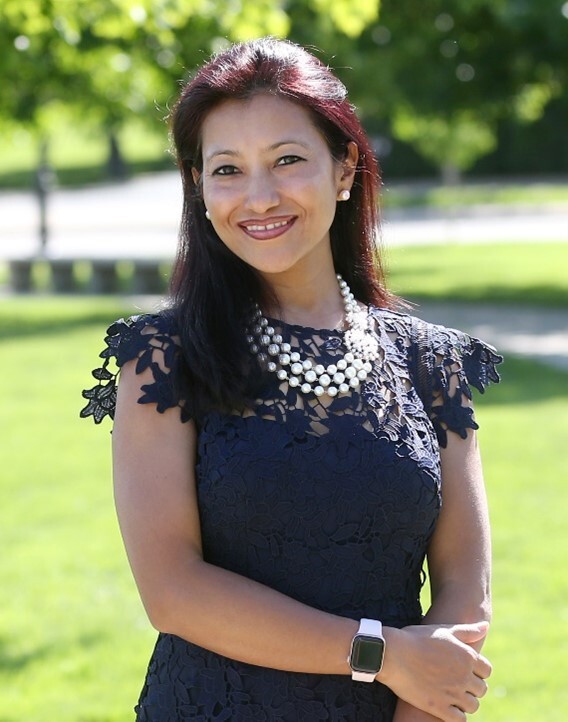 Sanjita Pradhan
Sanjita Pradhan Consulting
Sanjita has a Master's in Business Administration (MBA) from Indian Institute of Technology (IIT) in India. Sanjita worked as resettlement Director of the refugee resettlement program at Catholic Charities where she helped resettle and integrate thousands of refugees from Nepal, Iraq, Burma, Eritrean, Sudan, Liberia, Tunisia, Pakistan and many other countries resettle and reunite with their families.
Sanjita also worked at the Office of Asian and Pacific Islander Affairs. Sanjita's role at the Department of Human Rights was to serve as the central agency to advocate for Asian and Pacific Islanders (API) in the state, coordinate and cooperate with the efforts of the state departments and agencies to serve the needs of API persons in participating fully in the economic, social, and cultural life of the state, and to provide direct assistance to those who request it.
Sanjita was appointed by President Obama to be on the 'Presidents advisory commission on Asian American and Pacific Islanders' at the White House Initiative on Asian Americans in 2015.
Sanjita was awarded 'Citizen of the Year' by the City of West Des Moines and West Des Moines Chamber of commerce in 2021 and MLK Community Leadership award by City of West Des Moines in 2022.
For the last five years, Sanjita has worked at the Greater Des Moines Partnership leading Diversity, Equity and Inclusion work for the region.
In this role Sanjita provided one on one consultation to The Partnership Investors on creating a comprehensive DEI plan that has measurable goals and outcomes, leads an internal DEI initiative and coordinates regular events/webinars around DEI to share best practices and inspire action. Sanjita also provides in-depth trainings on various DEI topics to member organizations.
Sanjita is a Certified Diversity Executive (CDE)®.
$i++ ?>
Register

Non-member - $49.99
Member - Free!
Key:

Complete

Next

Failed

Available

Locked